Move over traditional Robo Advisors — it is the Hybrid Advisor that is now getting all the attention. A Hybrid Advisor, much like the name suggests, offers a more holistic investment platform where a human is in control, but is also using computers to help with overall investment strategy.
Among American investors, 56 percent said they see the value in a robo-advisor, according to a new survey by Capital One Investing, but even more people — 69 percent — want online services that blend human and digital guidance and 71 percent desire technology that connects them to a human advisor.
Financial services research firm Cerulli Associates estimates that robo-advisors had roughly $60 billion in assets under management at the end of last year and that figure will rise to approximately $385 billion by 2021.
The Financial Planning Association and Investopedia asked 2,002 U.S. investors whether they would use an automated investing service, a financial advisor or both for a variety of money issues.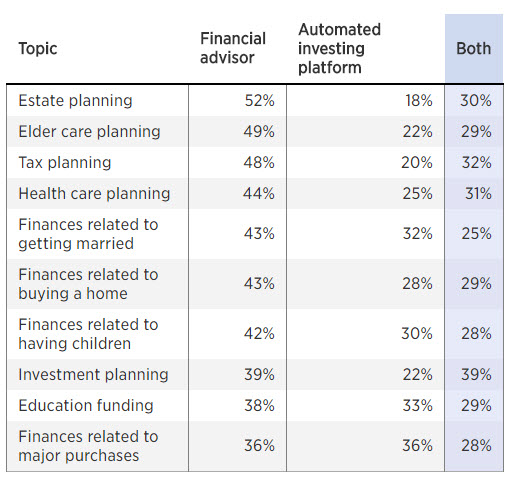 The bottom line is that the Hybrid approach, where the best aspects of "robo" technology is blended with advisor oversight and management appears to be gaining massive acceptance.